We are a professional blog site that may receive compensation or free samples from the companies whose products and topics we write about. We are independently owned, and the opinions expressed here are of the writer. To read the full disclosure click here.
________________________________________________________________________
Peas are known to be one of the most used ingredients found in dry dog food. These green seeds are sources of high-quality fiber and carbohydrates. You may be concerned about your pet's health because our animals are considered to be part of the family, so you want to take into account dietary specifics like allergy and intolerance to peas. Here are seven dog food trends for 2019 for dogs that are allergic or intolerant to peas.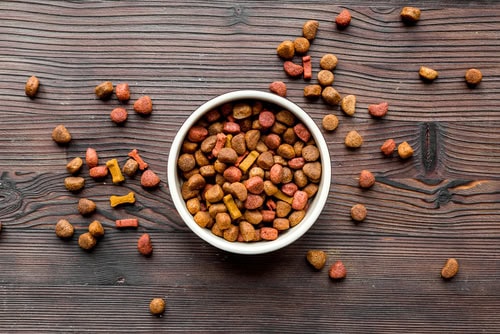 Premiumization
Premiumization is the strategy of producing dog foods with the use of premium ingredients to create quality products. The need for high-quality ingredients for pet food is on the rise to follow the animal's nutritional demands. Hence, there's also a strong need for locally sourced materials to produce premium and healthy pet food. Through premiumization, ingredients that may cause allergies or intolerance in pets, such as peas and some grains, are eliminated. However, premium pet foods can be priced higher than regular dog food. Despite this, it's believed that premiumization is here to stay as it's one of the best global dog food trends today.
Personalized Pet Food
Personalized pet food is a product that's specifically made for a particular type of dog. It's one of the fastest growing trends in the pet food industry today, especially after the Food and Drug Administration (FDA) announced a possible link between dilated cardiomyopathy (DCM) and grain-free dog foods that contain legumes, lentils, potatoes, and peas as their main ingredient. DCM is a disease in which a dog's heart muscle chambers dilate, causing an enlarged heart. DCM often results in congestive heart failure. The FDA warns pet owners and veterinarians about cases of DCM in dogs that only eat dog foods that mostly contain legume seeds, lentils, potatoes, and peas.
Pet lovers enjoy personalizing their pet's daily meals because they feel like they have more control over the food their pet eats. This includes looking for pea-free dog foods, checking the label of the dog food they're purchasing to avoid harmful ingredients, and visiting the vet to know more about alternative diets that they can give to their four-legged friends.
Humanization
Humanization is the process in which dog food manufacturers try to emulate human food's ingredients, appearance, aroma, and even its name. The end product is human-quality food that only contains a few ingredients and resembles a meal that humans eat, such as salmon stew with carrots. Full transparency of what each dog food is made up of is essential to pet owners. It's because they are keen to know where these products came from and what nutrients their pets can get from them.
Dehydrated Dry Food
Dehydrated dry food undergoes a drying process that removes its moisture and preserves its nutrients. Most consumers would like to buy less processed food for their dogs because the nutritional value of such a product is still intact. This is one of the trends that will most likely dominate the pet food market in the following years to come.
Organic Food Options
Organic food options are made without any colorants, artificial flavoring, synthetic ingredients, and preservatives, which make them a healthier food option for your dogs. Organic products are becoming a popular choice for some people, and they also want the same for their pets.
Treats and Raw Meat
Dog treats are like biscuits for dogs that are dry and hard. Their market increases its volume year by year. These treats are usually used to motivate dogs during training activities or a simple playing adventure with their owners. Nowadays, pet owners can purchase several dog food that can be frozen and thawed before serving to their four-legged friends.
E-Commerce
E-commerce is the buying and selling activities that are done online. Online buying and selling is a fast-growing platform globally because a lot of people nowadays are taking advantage of the convenience of online shopping. Today, a wide range of pet foods are now available for your dogs. Pet lovers, especially those that have a busy lifestyle, can benefit from this because there is a wide selection of pet products that can be bought online and delivered right at their doorsteps.
With plenty of dog food trends available for your dog, make sure to choose the best one by consulting first with your vet. Prolong your pet's life by giving them the yummiest and healthiest meals they can have.
Are you looking for the perfect gift for your dog-obsessed loved ones? Check out Petsies, custom stuffed animals that look just like your pet! Order one today!