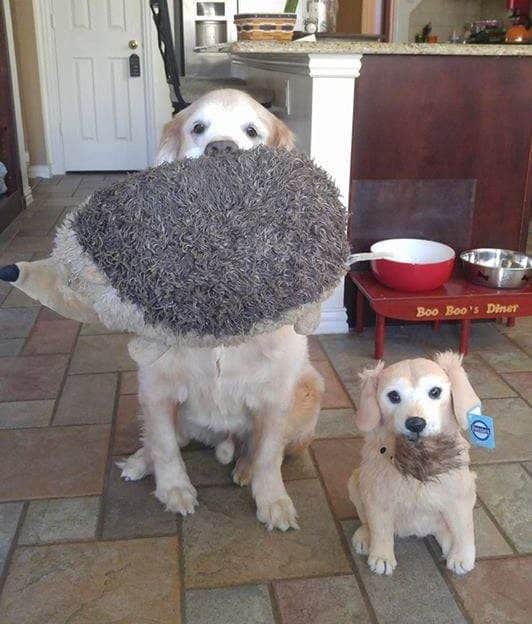 It's no secret that dogs love toys. Some dogs might even play favorites with one toy over another. For Boo the golden retriever, this toy was his hedgehog.
Boo's Backstory
Jessica fell in love with Boo when he was only a few hours old, and was instantly in love with him. She had wanted a dog for years, and by the time she was 21 her dreams came true when she got to bring Boo home!
As a puppy, Jessica & her family taught Boo to grab a toy to prevent him from chewing. Since then, Boo always has one or more toys nearby. Jessica says, "In fact, he has somewhat of a toy obsession..".
Why Hedgehogs?
When asked why Boo seems to like hedgehogs so much, his mom mentioned that they'd always been his favorite. She also said, "My family is in a competition to find him the biggest hedgehogs"!
Boo's Petsie
For Christmas of 2016, Jessica's husband Mike decided to surprise her and order a Petsie of Boo. Because Boo is so fond of hedgehogs, it only made sense to have the Petsie holding a hedgehog too! When Boo first met his mini-me, he was so excited to play with him & wouldn't stop wagging his tail! The family had to keep the Petsie up on a shelf so Boo couldn't play too rough with his new friend.
Jessica's friends and family actually thought she had gotten another puppy when they saw pictures of Boo next to the dog stuffed animal! Overall, Jessica is so happy with the Petsie.
"My dog is honestly like my son. So I am beyond thankful to have been given this gift, as I will be able to cherish it forever, long after Boo is no longer with us."