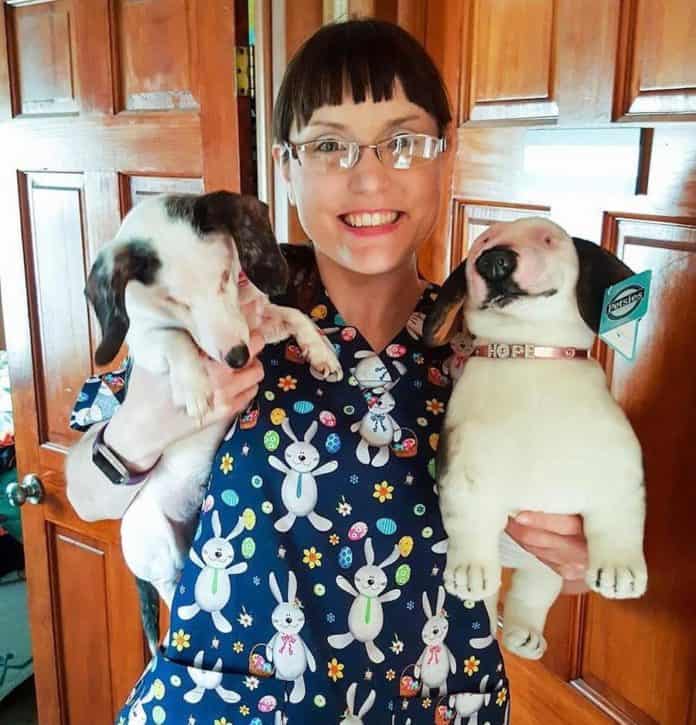 We are a professional blog site that may receive compensation or free samples from the companies whose products and topics we write about. We are independently owned, and the opinions expressed here are of the writer. To read the full disclosure click here.
________________________________________________________________________
Owning a pet is one of the most rewarding experiences in a lifetime. Some people have one family pet while others have many pets coexisting in the same home. Some even take on the responsibility of caring for a pet with physical limitations. For Lauren, this is the case. She owns Hope, a 6 year old dachshund who is both blind and deaf. While owning a pet with physical limitations poses many challenges, there are also countless rewards.
Hope's Background
Hope came from a "backyard breeder", or a breeder who isn't licensed. Because of this, Hope was born without eyes and also completely deaf. When Lauren and her husband Matt were looking into Hope's history, Lauren remembered, "We were told that the breeder wanted to destroy Hope, but his wife stopped him". After the breeder's wife passed, he gave Hope to Dachshund Rescue North America, where she stayed in a foster home until she was adopted by Lauren and Matt in February of 2014.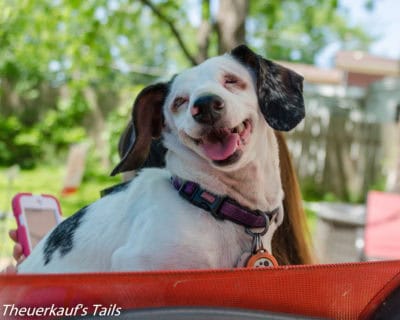 A pet lover from day one
Lauren has always been fond of animals. Her first pet was a guinea pig named Precious. Then her parents allowed her to get a Border Collie named Spots, and after that, a bunny named Chester.
The first differently-abled pet that Lauren and Matt adopted was their dog, Penny. She was born with a deformed front paw and a severe overbite. Her front left leg is also much shorter than the others. Lauren loved Penny's unique looks, and it was ultimately what drew Lauren to her. And Penny didn't let her differences keep her from doing normal dog things. Lauren and her husband were so surprised when Penny could jump onto their couch and even jump over their three-foot pet gate.
"She completely shattered our misconceptions about differently-abled animals"
After adopting Penny, Lauren began to purposefully seek out animals with physical limitations. They also adopted a one-eyed cat named Olaf, named after the snowman character in the movie Frozen. Today, Lauren and her Husband have five rescue dogs and three cats.
What brought Lauren to Hope
When Lauren was searching for a new dog to adopt, she scoured the web for Dachshund rescue groups. She was then directed to Dachshund Rescue North America (DRNA), where she saw Hope for the first time. Lauren said, "What most drew me to Hope was her 'disabilities'". While Lauren instantly liked Hope, she also felt so saddened for her. Every time Lauren looked through the DNRA website, her mind kept wandering back to Hope. She kept thinking to herself,
"If you don't love her, who will?"
Lauren couldn't get her mind off of Hope, so she knew that she was the one for her. She was excited to give Hope the life she truly deserved. Today, Hope is 6 years old and loves running around in Lauren and Matt's backyard with her furry siblings. She loves to smile in the sunshine, play tug-of-war with her stuffed animal toys, and burrow in her Cuddle Cave.

As Hope cannot hear or see, there are communication challenges that arise. Lauren and Matt are unable to call out to Hope and warn her when she may be about to run into a wall or a piece of furniture. They cannot give her visual cues to tell her to sit or stay. Lauren mentions that the hardest part for Hope was when she had to adjust to her new home with Lauren and Matt; Hope had to run into walls in order to learn the layout of her new environment. Even then, Hope had the layout down within a week!
A rewarding experience
Lauren states that the biggest reward of adopting Hope was seeing that she could still live an amazing life. While many people consider pets like Hope to be disabled, Lauren knows this to be completely false. Hope can maneuver all over the house, open doors, go up and down the stairs, and even knows to bark by the back door when she wants to go outside. "Hope has become an inspiration to everyone that she meets. She does not let anything hold her back", Lauren says.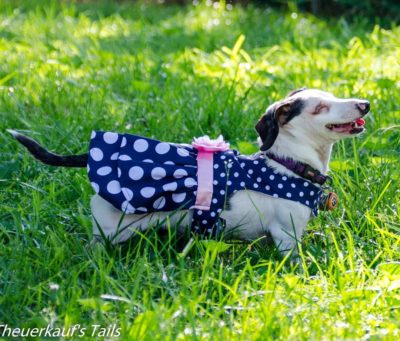 Hope's Petsie
Originally, Lauren wanted a dog stuffed animal of her other dog, Penny, as she had just published a children's book about her. However, once she found the Petsies website, she decided to get a plush made of Hope. Since Hope doesn't have any eyes, Lauren knew it would be challenging for the Petsies team, and she was curious to see how the Petsie would turn out. "I wanted to test the limits of the Petsies design team and I was not disappointed", Lauren said. She believes Hope's Petsie captures her true essence. Watch Lauren open her Petsies box!
After getting the Petsie, Lauren and her husband kept wondering why their dog Hope was in a box on the bed; the dachshund stuffed animal looked that realistic to them.
The pet with physical limitations is an inspiration to everyone
Overall, owning Hope has not only changed Lauren and Matt's lives, but the lives of everyone Hope meets. These pets help to teach people that every life is important, special, and impactful. Without truly selfless people like Lauren, where would some of these pets end up? Lauren ends with one final piece of information for everyone: "Despite being differently-abled, these animals are able to live amazing lives and accomplish incredible things." So, don't close your hearts to them. They can be an amazing source of love and fulfillment for both of you.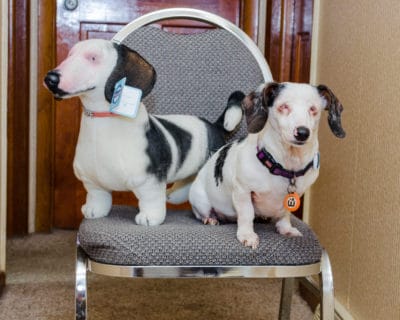 Get your own dog stuffed animal today.