We love giving back. The smile on your face when you get your custom plushie is priceless. It's worth 1,000 hours of hard work to bring such a unique experience into the world and, specifically, into your life. It's why we do what we do here at Petsies!
If you didn't know already, our headquarters is located in sunny South Florida — a perfect place for your Petsies to start their journeys. So, when we decided to donate to a local cause, a place that works tirelessly for our community's safety, the Boynton Beach Police Department was the obvious choice.
The department has an awesome K9 unit, with dogs that work 24/7 with their officers to keep the community safe. We thought it would be fun and a great way to give back to donate plush versions of their K9 dogs. We chose two of their retired police dogs — imagine dogs hanging out in the nearest pool, lolling in the Florida sun. We even donated one service dog stuffed animal (doppleganger) of a brand new therapy dog.
This was our way to give thanks to the canines and humans that keep us safe!
The Petsies Team Takes a Trip to the Police Department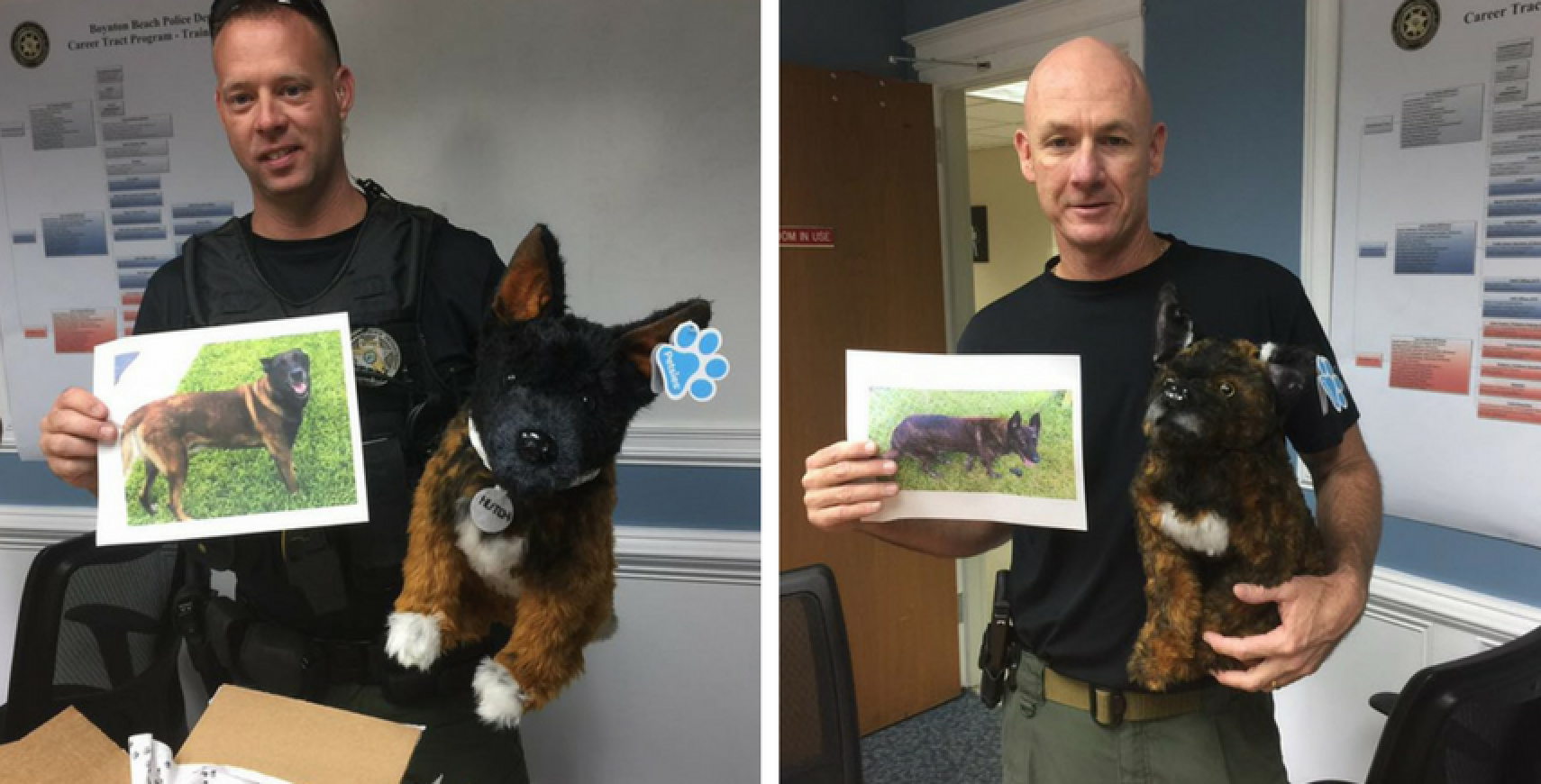 Three members of our all-star team – Alex, Melissa, and Sammi – took a field trip from creating cuddly friends to visit the Boynton Beach Police Department. They brought three plush Petsies with them.
They met with K9 Officer Mark Sohn (human to the retired police pup, Hutch), K9 Officer Brian Adams (human to the retired police pup, Kaos), and Detective Astrel Labbe (human to the therapy dog, Harley).
We learned these pups live with their officer partners— and when they retire, their forever home's with the officer that trained them. Since the K9 officers work with their dogs, they have to bond with their sweet pawtners. So, when the officers clock out, their best buddies come home with them.
K9 Officer Mark Sohn was partnered with a very special K9, Hutch, for seven years. Hutch retired in 2014, but still lives with Mark. He means the world to him and Mark misses working with his special buddy, though the two do sometimes get to crack the case of the missing remote.
Kaos retired in 2012, when he was injured on the job — don't worry he's okay and very happy living with his pawtner Brian!
Both Hutch and Kaos are incredibly loyal and well trained. They know how to keep our city safe and have saved the day on more than one occasion which makes celebrating them with a plushie even more rewarding.
The Department also recently hired a therapy dog, Harley. Harley's the first therapy dog on the force. Her partner, Detective Labbe, works on some really difficult cases for the Special Victims Unit (SVU). He sometimes has to interview children who have been in difficult and life changing situations.
Harley's a perfect pawtner because he helps the kids feel comfortable and breaks the ice when the force comes in. Harley's Petsies will add some extra comfort and reassurance to the kiddos as well, and the Petsies can handle a couple more squeezes.
The Petsies Reveal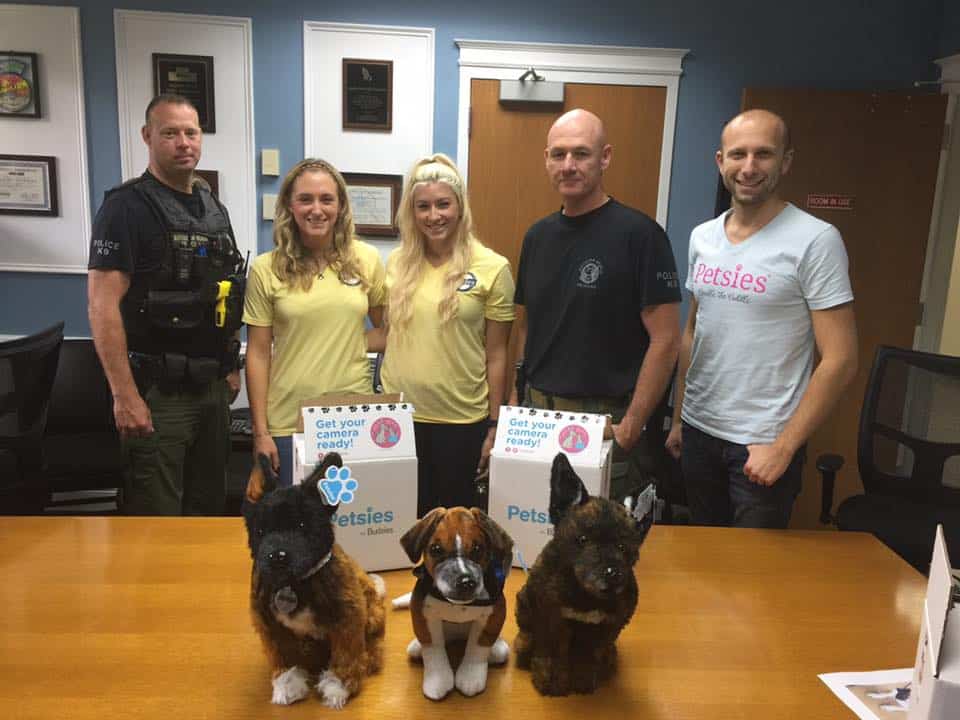 The officers and detective each got a Petsies box of their own. They unwrapped the boxes and were pleasantly surprised to find life-like doubles of their K9 partners. They were extremely grateful for their gifts; grinning from ear-to-ear.
The dogs had a slightly different reaction to their Petsies twin. Kaos tried to eat his twin — naturally. Confused, Hutch looked at it and pawed, a bit, but after a few minutes he welcomed his new best friend. Harley too was a little confused when she met her Petsies. After a few minutes, she'd warmed up enough to take a picture with her new friend.
South Florida Police K9 Competition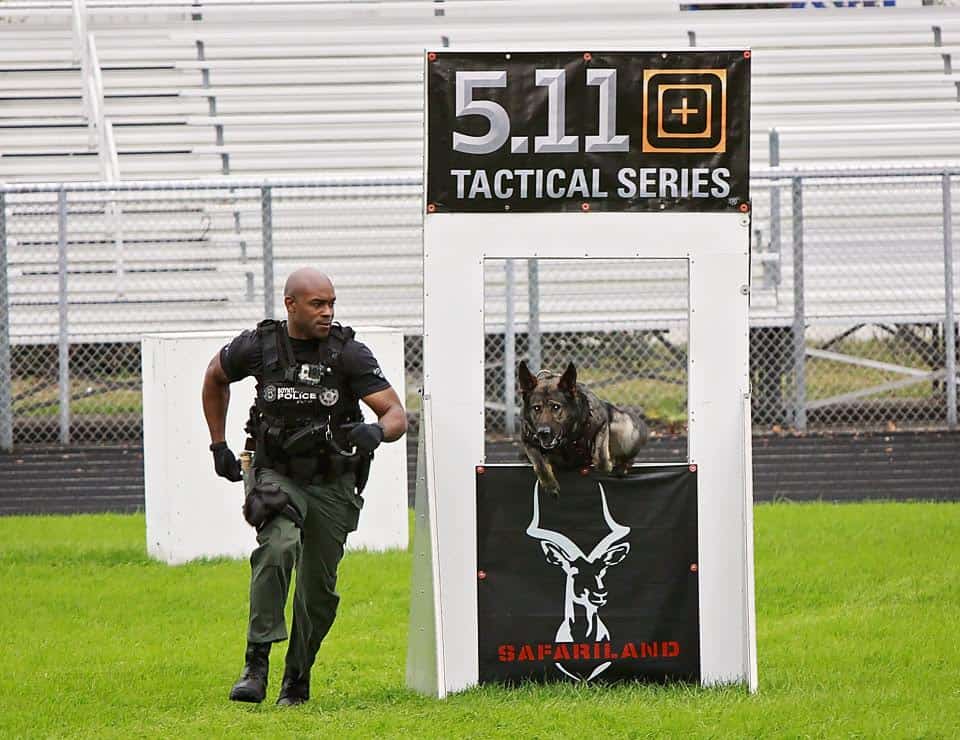 The officers also gave the Petsies crew gifts — t-shirts from their annual K9 competition. Every year the Boynton Beach Police Force throws a dog-focused competition to show off their best buddies' skills to the community. It's going to be held this year on Saturday, March 25th, and we're excited to check it out!
This year, the 6th annual event will see teams of dogs and human officers from across the state compete in obstacle courses to show what they can do! The event also has activities for kids like a rock wall and bounce house, which sounds pretty awesome.