Welcome to the Petsies Affiliate Program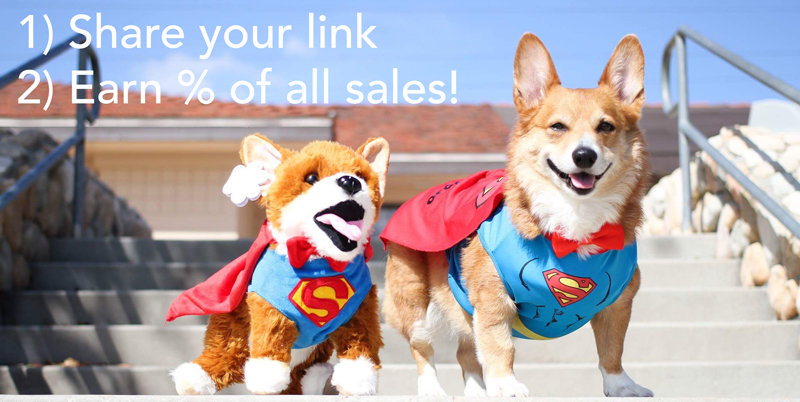 Petsies Affiliate Program: NOW EARN 15%!
Our Affiliate Program is perfect for anyone who wants to earn money while helping spread pet love worldwide! Upon becoming an affiliate member, we will provide you with a unique & trackable affiliate link. Each time someone clicks on your link and makes a purchase on our website, you'll receive 10% of the sale.
We will also provide you with a dashboard where you can track your progress and request payouts at any time.
UPDATE 1: ALL NEW AFFILIATES WILL BE MANUALLY APPROVED. After registering, please email [email protected] with the intended usage of your affiliate link to be approved.
UPDATE 2: We are temporarily offering large 15% affiliate fees. Join now!
Get Exposure for Your Link
It's extremely easy to get exposure to your link. Just think of all the people you'd like to tell about Petsies and make sure to include the link in your correspondence. Here are some ideas:
Email: send emails to your friends and family; use listservs of organizations you belong to; let your coworkers know about Petsies; etc.

Facebook, Twitter, Pinterest, Google+: share the link when you upload photos of your own Petsies; remind friends and followers about Petsies before holidays; post the link on other people's pages

Blog or Magazine: make a post about Petsies; include Petsies in gift guides; post a banner or badge about Petsies (we provide these for you in the Banners section)

Website: post banners or badges (provided in the Banners section) or reach out to us at [email protected] for a specialized solution
Thank You
Above all, we want to thank you for helping spread our vision to more pet lovers around the world. You are helping bring smiles to countless faces, giving comfort to those who have lost a furry friend, and ultimately celebrating the unconditional love and joy pets bring to our lives!
What's the Fine Print?
By participating in the program, you are agreeing to our agreement. Here are some of the highlights, which we're sure you already understand. But we'll pu them here for your enjoyment, anyway :)
Sometimes a customer might click on two separate links before making a purchase. In this case, the last user whose link is clicked is the one who gets the reward
We use "web cookies" to associate customers with your link. These cookies expire after 180 days, so a customer who places an order 180 days after clicking your link won't get counted toward your reward
Similarly, some customers proactively block cookies or who might click your link on one computer but place the final order on another computer. There's no way for us to associate the order to your account in these cases
The reward is added to your account after we charge the customer's credit card, which occurs when we review and approve artwork. After all, we need to make sure we have a real paying customer before we can distribute cash to you!
Rewards do not apply to shipping fees, taxes, canceled orders, refunded orders, or similar circumstances
If you conduct any fraudulent activity with your affiliate link, your account will be suspended and you will forfeit all earnings. This does not prevent us from seeking additional damages.
You can request a payout whenever your awards exceed $20. Payouts are sent to you by bank check or PayPal (if international).
REMEMBER TO VIEW THE FULL AGREEMENT HERE.